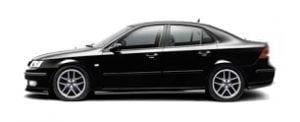 About The 9-3
The first generation of 9-3's were built upon the GM 2900 platform and created as a compact executive car.
To be pronounced "nine-three" and not "ninety-three", Saab changed the platform for its second generation to the popular GM Epsilon platform. The latter was shared with a number of similar vehicles such as the Opel Vectra (or Vauxhall Vectra in the UK), the Vauxhall Calibra and the Cadillac BLS.
Whilst designing the 9-3, Saab took heavy inspiration from its predecessor the 900 which maintained the classic Saab aesthetic. Whilst the vehicles looked fairly similar, and subsequently were compared as such, Saab issued statements to explain that whilst the two may not look incredibly different, there had in fact been over 1,100 changes made. These updates saw improvements made to the suspension, a change in styling and the addition of a rear spoiler.
Customers had the choice of either a 3-door or a 5-door hatchback or a 2-door convertible. Available in a number of colors, perhaps the most striking was the lightning blue. Reviews were mixed, there were damning reports of poor handling but conversely, the styling was heavily congratulated with the 9-3 called a 'modern classic.'
The second generation started life as the 9-3X concept car which was shown at the North American International Auto Show. Here, there was a huge style change, with Saab moving away from their classic aesthetic, they now offered the car as a 4-door saloon, estate and retained the 2-door convertible. Four trim levels were available for purchase, Linear, Vectra, Arc and the top line Aero.
Saab began the design for the 9-3's third generation in 2007 with the hopes of releasing the new model in late 2012. Unfortunately, this never came to pass due to Saab's takeover by National Electric Vehicle Sweden following the 2011 bankruptcy.