Toyota Prius Owner's Manual
---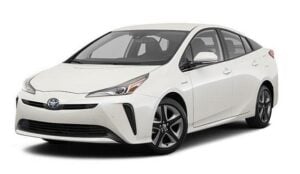 About The Prius
The Toyota Prius is one of the most popular hybrid vehicles on the market today. These owner's manuals will help you get acquainted with your new car and answer any questions you might have about it.
Since 1997 the Prius has led the way in hybrid cars setting the standard for other manufacturers releasing their own hybrid cars.
The hybrid car was rated as the cleanest in the world for many years until the Hyundai Ioniq stole the title away in 2018.
Toyota extended the Prius fleet in 2011 after-sales kept climbing exponentially year-on-year to include Prius V and Prius C variants.
The Prius V is slightly larger in size with more room in the boot and the Prius C is a smaller subcompact hatchback all built on the same basic platform.
That platform is also used under many other popular Toyota models such as the Corolla and C-HR.
Originally the car was released as a 4 door but with the release of the second-generation redesign, it was changed to be a 5 door which is what Toyota stuck with thereafter.
The second generation of the Prius had a lighter battery pack and all-electric air-conditioning unit, the first for any production car.
When the third generation was released Toyota was starting to suffer from the competition as Honda released their hybrid car the Insight which was cheaper in price.
With the third generation, new optional features to the range, customers could add sol-PV roof panels to cool the car economically and new driving aids like intelligent parking assist.
A fourth-generation Prius released in 2015 improved the center of gravity making the car a lot more stable and safe, another face-lift came in 2018 improving just the styling of the body.
In recent years the trim options have been vast and include options such as:
Advanced
Five
Four
Four Touring
LE
One
Persona Series
Three
Three Touring
Touring
Two
XLE
FAQ's
Q: How much oil does a Toyota Prius take?
A: For the Toyota Prius models that actually have oil (some models are fully-electric), you can check our sister site https://oiltype.co/cars/toyota/prius/ to find out the volume and types you need.
---
Q: Does Prius Prime need an oil change?
A: The Prius Prime still has a gasoline-fuelled engine inside so yes it needs an oil change regularly, consult https://oiltype.co/cars/toyota/prius/ to find out the volumes and change schedules recommended by the manufacturer.