Toyota Prius Owner Manual's
---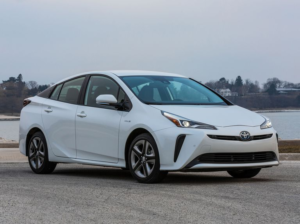 You can find 41 different owner's manuals for the Toyota Prius on this page that are in the PDF format.
The years available stretch from 2001 through to 2020 and to view the manual you just click the name to the left (or above if viewing by mobile).
About The Toyota Prius
Since 1997 the Toyota Prius has led the way in hybrid cars setting the standard for other manufacturers releasing their own hybrid cars.
The Prius was rated as the cleanest car in the world for many years until the Hyundai Ioniq stole the title away in 2018.
Toyota extended the Prius fleet in 2011 after sales kept climbing exponentially year-on-year to include Prius V and Prius C variants.
The Prius V is slightly larger in size with more room in the boot and the Prius C is a smaller subcompact hatchback all built on the same basic platform.
The original car was released as a 4 door but with the release of the second-generation redesign it was changed to be a 5 door which is what Toyota stuck with thereafter.
The second generation of the Prius had a lighter battery pack and all-electric air-conditioning unit, the first for any production car.
When the third generation was released Toyota was starting to suffer from the competition as Honda released their hybrid car the Insight which was cheaper in price.
The third generation brought new optional features to the range, customers could add sol-PV roof panels to cool the car economically and new driving aids like intelligent parking assist.
The fourth-generation Prius released in 2015 improved the center of gravity making the car a lot more stable and safe, another face-lift came in 2018 improving just the styling of the body.
Toyota Prius Oil Type
Inside the owner's manual you can find a reference to the oil type needed and the fill capacity. To make things easier we have a sister-site that lists the different trims of the Toyota Prius and the appropriate oil you need at OilType.co.