Ford F-150 Owner's Manual
---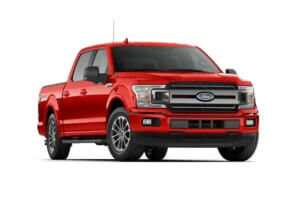 About The F-150
Ford's F-150 is a popular truck that offers a lot of utility and performance. If you're not sure how to use it, then this owner's manual will help! It includes information about the engine, fuel system, transmission, electrical system and more.
Since the late 1940s, Ford has been producing the "F" line of trucks that are marketed all around the world as a true workhorse.
This vehicle isn't built for comfort or luxury but as a reliable assistant for those who work in rough terrains and want to get there whatever the weather.
If you are looking for a luxurious version of this car then you can buy the Lincoln Navigator which uses the same chassis but with a more premium SUV body.
The truck has gone through many different iterations and redesigns over the years, as well as many sport (such as the Lightning and Raptor) and utility versions also being released.
You can see the extent to which the truck has changed by reading through the various Ford F-150 owner's manuals listed on this page.
It is a common addition to many police forces across the North of America, it is seen as a strong and reliable vehicle with parts readily available.
Many examples of the Ford F-150 still exist today and clock up well over 100,000 miles as it was very over-engineered and truly a fantastic pickup truck.
Other popular full-size pickup trucks in the USA include the Chevrolet Silverado and the Dodge Ram.
The future for the F-150 seems to be in battery power, Ford is pushing for the truck to become a leader in that revolution.
You can see the current powertrain options included in the truck by reading 1 of the official Ford F-150 manual PDFs to the left.
The match of the F-150 and batteries would be one made in heaven thanks to the massive amount of torque available from an electric motor.
Luckily for owners, a lot of the complaints about the truck stem from annoying small issues such as the fuel door or sunroof becoming loose or making uncomfortable noises.
Serious mechanical problems with the truck do occur but luckily with so many examples of the vehicle around in scrap yards spare parts are easy to come by.
In 2022 the F-150 was being offered with a new "Black" trim which sees much of the exterior and interior detailed with a gloss black finish.
Also during this model year, the option for a diesel engine was removed from the pickup truck due to poor sales in North America.
An all-electric version of the F-150 truck is due for release in late-2022 that is being branded by Ford as the Lightning version and will be priced around the $40k mark.
FAQ's
Q: How do you get a printed Ford F-150 owner's manual?
A: For more modern versions of the truck you can easily find new copies of the manual for sale on Amazon for around $50. They justify the price because they know it can add value when you try to sell your car. For copies of the older Ford F-150 owners manuals you may have to dig a little deeper and head to websites like eBay, though for a sealed copy that's in a nearly new condition you could be paying big money.
---
Q: Where can I download the Ford F-150 manual for free?
A: On this site you can find free downloadable (or you can view online or even print it) versions of the Ford F-150 owners manual. We have catalogued all of the manuals for models since 1996 in easy to use PDF format.
---
Q: Is the Ford F-150 a good truck?
A: If you go by the sales volume of the Ford F-150 then you can see that people vote for this answer with their wallets. It regularly tops the charts in the USA as the number one selling automobile on the market. These pickup trucks are also known to be over-engineered and last a lot longer than you would expect, retaining their value in the process.
---
Q: What would cause a Ford F-150 to not start?
A: If your F-150 is not starting when you turn the ignition key then it could be down to a lot of problems. The quickest and easiest solution would be to charge the battery if it is dead. Next up you could be dealing with a faulty alternator or starter motor which aren't as easy to fix as a flat battery.