Mazda Mazda3 Owner Manual's
---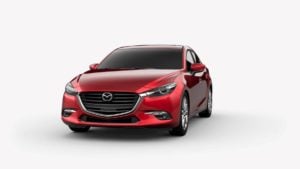 You can find 33 different owner's manuals for the Mazda Mazda3 on this page that are in the PDF format.
The years available stretch from 2004 through to 2020 and to view the manual you just click the name to the left (or above if viewing by mobile).
About The Mazda Mazda3
The Mazda car manufacturing company is a Japanese based conglomerate that has been in operation since the start of 1920.
The Mazda 3 goes by different names in different regions:
In Europe, it is known as the Mazda3 MPS
In Japan, it goes by the name Mazdaspeed Axela which translates as "Acceleration"
Lastly in North America, it is known as the Mazdaspeed 3
The compact car was first available in 2003 to the general public and took over from the Mazda C (or known globally as the Familia/323/Protegé).
The car has gone through 3 major redesigns, styled by such designers as:
Hasip Girgin
Kunihiko Kurisu
Koichi Tabata
The 2019 model of the Mazda 3 features cutting edge fuel effective all-wheel-drive technology and high-quality audio entertainment.
You can get the latest model as either a hatchback of a saloon-style of the car depending on your requirements.
In terms of engine, you can choose a sensible 1.8 litre diesel or opt for a sporty supercharged 2 litre, in either manual or automatic transmission.
A sports version of the Mazda3 was released in several regions with a larger petrol engine and tighter gearbox.
Underneath the car is the same platform shared with the larger Mazda5 MPV model.
Common Problems With The Mazda 3
After looking through forums and checking on the common technical/mechanical problems experienced by Mazda 3 owners, I found that there top the complaints:
Electrical problems – such as dashboard and electric windows
Air-conditioning – either not working at all or blowing warm air
Clutch – sticking frequently when driving or the fly-by-wire mechanism failing (average cost of $1,200)
Brake problems – too soft or even juddering
Engine – occasionally refusing to start in harsh weather conditions such as freezing
If you are seeing a warning light that does not seem to make sense in relation to any of these Mazda3 problems check out our visual guide here.
Mazda Mazda3 Oil Type
Inside the owner's manual you can find a reference to the oil type needed and the fill capacity. To make things easier we have a sister-site that lists the different trims of the Mazda Mazda3 and the appropriate oil you need at OilType.co.