Citroën Xsara Picasso Owner's Manual
---
You can find 14 different owner's manuals for the Citroën Xsara Picasso on this page that are in the PDF format.
Yearly Xsara Picasso Owner's Manuals
The years available stretch from 1999 through to 2012 and to view the manual you just click the name underneath.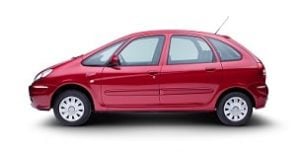 About The Xsara Picasso
The Xsara Picasso is a compact multi-purpose vehicle developed by the French automaker Citroen between the years 1999 and 2012. It could seat 5 people with 5 doors. Citroen initially gave this car two trim levels, the LX and the SX, and then later the 'Desire', VTR and Exclusive followed. Some of the Xsara Picassos had a fully electric transparent glass sunroof.
This vehicle was built with the family firmly in mind, and where possible, Citroen ensured that general use of the vehicle should be made as easy as possible. For example, on the back of the two front seats were fold-down tables, much like an airplane, for the rear passengers to set food and drink upon. If there were no additional passengers, the rear seat could be fully removed to allow for a large cargo space.
The engine configurations were 1.6-liter, 1.8-liter and a 2-liter petrol along with a 2.0 diesel. All these engines were shared with the standard Citroen Xsara compact car model.
AutoTrader named the Xsara Picasso 'the most popular MPV in the UK' due to its practicalities and affordability.
All examples were built at the PSA plant in Vigo, Spain. Citroen actually licensed the name 'Picasso' from Pablo Picasso's estate which allowed for great publicity. This was furthered when Pablo Picasso's granddaughter publically disagreed with this decision and threatened to Sue her Uncle Claude in 1999, the individual who managed the estate.
This was not the first time the Picasso name had been associated with Citroen, back in the 1960s, Pablo Picasso created a work of art that was directly painted onto the side of a Citroen DS. This piece of work was entitled 'The Wreaths of Peace.'
When the line was discontinued in 2012 it was replaced with the C3 Picasso and the C4 Picasso.