smart forfour Owner's Manual
---
You can find 9 different owner's manuals for the smart forfour on this page that are in the PDF format.
Yearly smart forfour Owner's Manuals
The years available stretch from 2004 through to 2019 and to view the manual you just click the name underneath.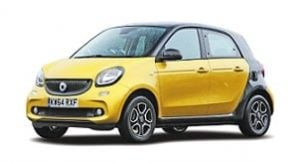 About The smart forfour
The smart forfour is a small city car that has been manufactured by Smart for two different periods of time.
The first generation was on the market between 2004 and 2006, while the second generation was released in 2014. Both generations were discontinued due to low sales figures in an already niche supermini and city car market.
Both generations featured a 5-door hatchback layout. It is driven by an engine in the front and front-wheel drive.
The forfour has faced competition from other city cars like the Renault Twingo, SEAT Mii, and Volkswagen Up!
Smart released four trim options for the base model. These consisted of the entry-level Pure, Passion, Prime, and the top-tier Prime Sport Premium. The main differences between these trim packages include a full leather interior, updated 15-inch alloy wheels, and additional body color options.
Petrol powertrains for the first generation consisted of a 1.1 L inline-3 up to a 1.5 L inline-4 engine. There was only a single diesel version released with a 1.5 L inline-3 cdi engine.
There was also a forfour Brabus Xclusive version. This high-performance variant featured a turbocharged Mitsubishi 4G15 engine that was capable of 130 kW. Interestingly, the Brabus version shared more similarities in terms of trim with the mid-level Prime than with the premium Prime Sport Premium.
However, it was released with a host of optional extras like electric mirrors, electric passenger seats, heated seats, and various others.
Smart later released an electric version called the electric drive in 2017. This version, which featured a battery-electric powertrain, was rebadged as the EQ forfour in 2019.
The second generation was discontinued in 2021, marking the end of the Smart forfour. This results in only the smart twofour models being available at present.