Volkswagen Up! Owner's Manual
---
You can find 12 different owner's manuals for the Volkswagen Up! on this page that are in the PDF format.
Yearly Up! Owner's Manuals
The years available stretch from 2012 through to 2023 and to view the manual you just click the name underneath.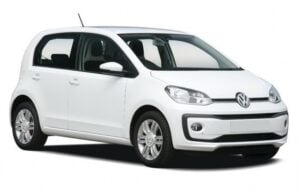 About The Up!
In 2011 production of the Volkswagen Up! began in Slovakia and Brazil with models being exported to various other markets including Europe.
It is the same car as the Skoda Citigo and the SEAT Mii, just branded slightly differently and acting as the company's city car offering.
All of these models are built in the same factories, although the Brazillian market receives a slightly longer version of the car with a spare wheel and a larger fuel tank.
Much like the Smart range of cars and the newer Renault Twingo models, the Up! concept has its engine in the rear of the car powering the rear wheels.
On this page you can find owner's manuals to download in PDF format, so you can access them quickly and easily.
Whether you're looking to buy a new or used Volkswagen Up!, or just want to learn more about your current vehicle, these manuals are perfect for you.
The production model switched to the more traditional front-engine front-wheel-drive layout that many of us are more used to in our small cars.
All of the engines on offer in the Up! are 1-liter in displacement with a turbocharged option and a natural gas-powered version is also available.
Although buyers have little control over the size of the engine in the car they do have a wide range of trims to choose from including:
Black Edition
Club Up
Groove Up
High Up
Look Up
Move Up
Move Up Tech Edition
R Line
Rock Up
Street Up
Take Up
Up
Up Beats
Up Black
Up GTi
Up White
White Edition
Sales in Europe regularly top 100,000 units per year where fuel costs are higher due to the continent being a net-importer of oil.