smart fortwo Owner's Manual
---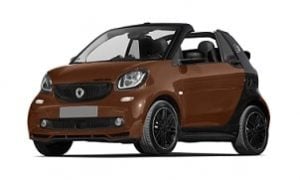 About The smart fortwo
The smart fortwo is a city car that has been sold by Mercedes-Benz Group's smart division since 1998. During its time on the market, there have been three generations. Each generation is given a mark designation, similar to the Volkswagen Golf.
The MkII version made its debut in 2006, while the MkIII was released in 2014 and is still on sale today.
As a small city car, smart decided to rebrand the fortwo as the smart EQ fortwo, a fully-electric version. This was done to help align the brand with the emerging Mercedes EQ brand in 2018.
Before making the move to fully-electric vehicles, the model was exclusively powered by a rear engine coupled with a rear-wheel drivetrain. Nowadays, the EQ version is powered by a rear motor with a similar RWD.
While the city car market has never been the busiest class out there, the fortwo has had to compete with a number of similar models. In fact, the model is often thought of as one of the first modern city cars. These include the Chevrolet Spark, Honda Fit, and Mitsubishi Mirage.
The microcar has had only two layouts in its over two decades on the market. These have consisted of the basic 3-door hatchback and the less common 2-door convertible variant.
Powertrains have included both petrol and diesel options, albeit fairly small ones, for both the MkI and MkII models. Before updating the powertrains to be exclusively electric, the MkIII version only offered petrol engines.
The petrol engines have ranged from a turbocharged 0.6 L inline-3 up to a spritely turbocharged 1.0 L inline-3. Diesel options remained a single turbocharged 0.8 L inline-3 for both generations.
The EQ fortwo is powered by a 66 kW synchronous electric motor that is coupled with a single-speed direct drive system.