2010 Toyota Prius Owner's Manual
---
You can view the 2010 Toyota Prius owner's manual further down the page underneath the image of the cover.
Clicking on the "view full screen" button will take you to a full screen version of the manual.
Manual Cover
2010 Prius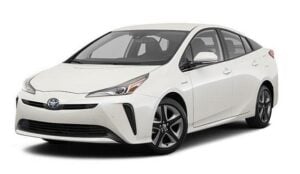 The Toyota Prius is the first popular hybrid car that shaped the way for other car manufacturers.
It took many years for other company's to catch up with Toyota's hybrid technology and the Prius held the title for the best selling hybrid for over a decade.
When the second generation model of the hybrid car hit showrooms customers found the range had been extended greatly due to battery technology moving forward.
Then when the third generation was released in 2009 the price was cut to compete with new competition from Honda and the built-in technology received an update.
This 2010 Toyota Prius is an early example of the third generation of design and the new face-lift wasn't just for aesthetics but also to cut down on drag, making the car more efficient.
The owner's manual on this page starts with an import "Before Driving" chapter that covers some of the most important aspects of the car for safe driving.
Moving on from the safety chapter an overview of the interior features like entertainment and climate control will help you work out how things work and how to preserve energy to extend the range.
An important chapter on maintenance and care is a must-read for those new to hybrid cars as battery maintenance may be a new subject for a lot of owners of the 2010 Toyota Prius.