Citroën C2 Owner's Manual
---
You can find 7 different owner's manuals for the Citroën C2 on this page that are in the PDF format.
Yearly C2 Owner's Manuals
The years available stretch from 2003 through to 2009 and to view the manual you just click the name underneath.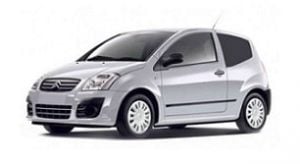 About The C2
The C2 is fundamentally a supermini developed by the French manufacturer Citroen. The C2, built at the Aulnay plant in the Persian district, was a direct replacement for its predecessor, the extremely popular Saxo. This C2 had a relatively short run of just 6 years, commencing in 2003 and ending manufacture in 2009 where its successor, the DS3 took its place.
Despite Citroen announcing the C2 as the Saxo's replacement, the two vehicles have extremely different aesthetics. Where the C2 has the illusion of a rounded, tall car, the Saxo was popular amongst drivers who wanted an affordable sporty hatchback and was far more angular in its appearance.
This C2 was exclusively designed by Donato Coco, an Italian designer who has become more famous in recent years for being responsible for several Ferrari models. Citroen did not see the same success with the C2 that they did with the C1 and C3, many blamed the lack of marketing and commercials for the model. Despite this, the C2 won 'best European hatchback' in 2003.
There were several trim levels, designed to appeal to a specific demographic. The LX was the most basic of the variants, the L was still fairly basic but had a CD player and the SX was the top-level luxury model. Following on from the Saxo, Citroen kept the sports trims, Furio, VTR and VTS. A limited edition was launched, the GT, with a sporty body kit and alloy wheels. Only 2,500 of these were made and all were sold with a certificate of authenticity.
2007 saw a facelift with changes made to the front grille and the front bumper, Citroen kept the same trims. The C2 was one of the first cars to feature all-new technology, namely the stop and start system, and Sensodrive. The former saves on fuel consumption when the vehicle is temporarily stopped (e.g. at traffic lights) the engine will automatically switch off, starting again automatically when the driver wishes to pull off. The Senodrive was a 5-speed automated manual transmission that automatically handled the gear changes and as a result, the clutch pedal was removed entirely.