Citroën C5 (incl. X) Owner's Manual
---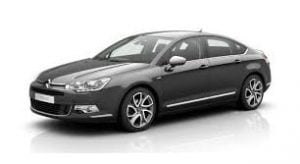 About The C5
The C5 is a large family car produced by the French car manufacturer Citroen that transformed into a mid-size crossover SUV in later years.
This C5 replaced the Xantia and the first generation was built as either a 5-door liftback or as a 5-door estate. It went on sale in the UK in 2001 with three petrol engines; 1.8-liter, 2-liter and 3-liter and three diesel engines.
The C5 was the last Citroen to be built under chairman Jacques Calvet who headed up Citroen from 1982 – 1999. It had automatically controlled electric suspension which had the ability to control the ride; given the type of terrain the vehicle was driving on, the car would amend its setting to allow for a more comfortable ride. In addition to the automatic suspension, the C5 allowed for manual height control with an automatic override if the height was deemed unacceptable for the driving conditions.
2004 saw a major facelift, namely changes to the front and back of the car to make it fit more suitably with the rest of the Citroen range, and more notably the C4.
The second generation debuted in 2007 with a more aerodynamic shape and structure and was displayed at the Frankfurt Motor Show. Citroen added the estate version a year later. The second generation not only saw a radical change to the aesthetics, but also a big overhaul of the engines allowing for better fuel consumption and lower emissions. In 2016, the decision was made to remove the C5 from sale in the UK due to disappointing sales. In its time, the C5 had only sold a total of 17,105 with only 237 units ordered in 2015. These statistics are even lower when compared to the French markets, which sold 6,549 in the same year. It was suggested that the global financial crisis could have been to blame for poor sales.
New technologies were added to this generation, with the addition of GPS monitoring and a 'free' SIM card which required no call plan and no monthly cost. This allowed for two buttons in the cabin to call for help, an SOS call for emergencies and a 'double chevron' for assistance calls.