Fiat Doblo Owner's Manual
---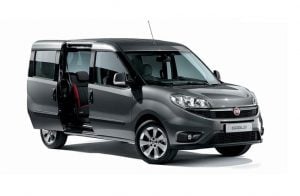 About The Doblo
The Fiat Doblo debuted at the 2000 Paris Motor Show and was introduced as a 'leisure activity vehicle' and a 'panel van.' Sales began in Holland in 2006 and shortly after the Diablo was voted van of the year by 19 countries.
This Diablo model could carry a weight of 730 kg (114 stone or 0.7 tonnes) and was built and produced in Fiats Tofas subsidiary factory in Bursa, Turkey. It was also built in assembly plants in Brazil, Russia and Vietnam.
Fiat created three battery versions; the 'go green' with a lithium-ion NonoSafe battery which charged in under 10 minutes, a 43 kWh lead acid battery which had a 150 km range (recharged in 5-8 hours), and a 60 x 200 AH 3.6V lithium module battery which allowed for 1,000 cycles at 80% DOD.
The second generation (2010) continued to be built in Turkey on the Fiat small platform alongside the Grande Punto.
Fiat added a pickup body style to the range, the Doblo EV which was the first electronic commercial vehicle to be sold in Turkey. The facelift was showcased at the Hanover Motor Show in 2015, featuring a new front end, pulling the grille down lower.
Its trim levels were Standard, Active, SX and Technico for commercial vans, and Pop, Easy, Lounge and Trekking for passengers.
The Diablo scored a 3 out of 5 in the NCAP safety tests. 2019 saw the end of the Doblo in the UK with Fiat naming the N1 Fiat professional commercial van its successor. In 2020, Fiat discontinued the Doblo as an MPV in most markets with only Turkey and Russia keeping the car.