You can find 5 different owner's manuals for the Fiat 500X on this page that are in the PDF format.
Yearly 500X Owner's Manuals
The years available stretch from 2019 through to 2023 and to view the manual you just click the name underneath.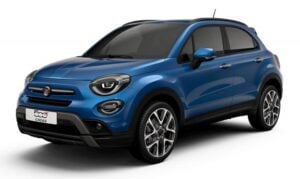 About The 500X
The Fiat 500X is a subcompact crossover SUV version of the popular 500 model of hatchback from the same manufacturer.
It has plenty of cargo space, with seats that fold down completely flat so you can haul whatever items you need.
The 500X even offers split-folding rear seats to allow for increased cargo capacity when needed.
These various owner's manuals will help you learn more about how to use these space-saving features inside of the PDFs.
An even larger version of this 500 model is available that is more orientated towards being a minivan called the 500L.
The car was released to the public in 2014 with many different engines, from 1-litre in size through to 2.4-litre.
In terms of transmission, you can find a 5 or speed manual or automatic with the larger engine model offering a fuel-efficient 9-speed automatic option.
IIHS has issued the 500X with a safety rating of its highest possible and awarded it with the label 2015 Top Safety Pick+.
This safety rating is rare for an SUV as they usually never score perfect due to the risk of rollover due to a high center or gravity.
The 500X is available in a variety of trims including the Pop, Easy and Lounge version to represent the different levels of features and comfort you can expect based primarily on budget.
Reviews for the car are mixed with many saying that the build quality feels cheap but the car is remarkably quick and roomy for its size.