Fiat Panda Owner's Manual
---
You can find 14 different owner's manuals for the Fiat Panda on this page that are in the PDF format.
Yearly Panda Owner's Manuals
The years available stretch from 2011 through to 2024 and to view the manual you just click the name underneath.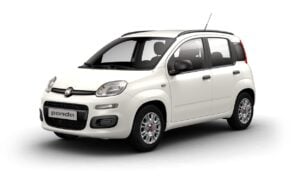 About The Panda
First introduced in 1980 the Fiat Panda is classed as a supermini car that competes with the Ford Fiesta and Mini Cooper.
It was easily identifiable as a tiny boxy vehicle until it entered its second generation of design in 2003 where it gained a much more stylish appearance.
Modern Panda's are still a very small car but about 5%~ larger than the original to make room for safety equipment.
Original examples of the car were built in 1 of 2 manufacturing plants in Italy (the home of Fiat) though with the introduction of the 2nd generation model production was moved to Poland.
When the third generation was introduced (2011) the manufacturing returned to Italy and the size of the car increased by around 5% again.
These third-generation examples are available with one of the following trims fitted:
4×4
City Cross
Easy
Lounge
Pop
Trekking
Trussardi
Waze
Over the years many different versions of the Fiat Panda were released to appeal to different types of customers with varying needs and budgets.
These owner's manuals will help you learn to care for your new vehicle so that you can be confident when driving it on public roads or using it as an economic commuter vehicle.
Panda Van
The Panda Van made its first appearance in 1994 which saw the back of the vehicle lengthened (like an estate car) with barn-door style doors for loading and unloading.
Along with a change in the body shape the rear seats were removed and plastic blanking plates fitted. Under the hood was a choice of either petrol or diesel engines.
These van versions of the Panda were not made available in right-hand drive markets such as the UK, where the Ford Transit is king.
Panda 4×4
The first Panda 4×4's appeared in 1983 and brought off-roading to the masses with a small 1 litre engine in the front driving all axels.
The 4×4 trim was revived with the 2nd and 3rd generations of the car's release and proved very popular with those who need light off-road capabilities on a budget.
Panda 100hp
Sporting a 100hp 1.4 litre 16 valve engine this trim could launch the car from 0-60mph in 9.5 seconds and looked a lot more aggressive than the other trims.
Disk-brakes all round and a wider stance allowed the 100hp trim to perform better than any of the others.
It was introduced in 2006 and was discontinued in 2011 due to "tightening emissions regulations".