Mercury Mountaineer Owner's Manual
---
You can find 14 different owner's manuals for the Mercury Mountaineer on this page that are in the PDF format.
Yearly Mountaineer Owner's Manuals
The years available stretch from 1997 through to 2010 and to view the manual you just click the name underneath.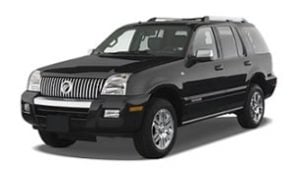 About The Mountaineer
Sold between the years 1996 and 2010, the Mountaineer was a car built by Mercury, a division of the Ford Auto Company.
Mercury was famous for the waterfall front grilles they installed on the front of most of their cars.
Buick first used this type of front grille in 1939, and more recently, examples can be found on Opel's Adam premium city car' (or the Vauxhall Alex for the UK).
A 4-liter 210 bhp V6 engine was sold as the standard, with the option to upgrade to a 4.6-liter 239 bhp V8, 5-speed automatic transmission could be found on both powertrains.
Mercury offered all variations as a part-time four-wheel drive, or full-time four-wheel drive. To broaden the appeal, Mercury added a few trim levels to the lineup, the basic model was aptly named 'Convenience' and the top level was badged 'Premier.' In later models, customers could add rear televisions on the rear of the front headrests, rear ceiling air vents, body-colored bumpers and a chrome exhaust system.
By the third generation, the Mountaineer had a completely different aesthetic, using another revised chassis but keeping the same wishbone configuration. Previously, Mercury had made the decision to pull their premium 'Lincoln Aviator', which subsequently left the Mountaineer in the position of their new top-line luxury mid-sized SUV.
Curtain airbags were installed to increase the safety level and to meet new standards set in Northern America along with live updates for traffic warnings after the 2008 facelift.
The Mountaineer sold from 2006 up until 2010, and in the last couple of years, they had the new 'Find My Key' system. This smart little piece of technology allowed for the driver to program various keys with restrictive modes, meaning that a parent could limit their 17-year-old child to 70 miles per hour when sharing the vehicle.
It was even possible to limit the volume on the sound system or even disable it to avoid distractions. All keys issued with these cars could be configured in this way except the admin, which of course allowed access to everything.