Pontiac Aztek Owner's Manual
---
You can find 5 different owner's manuals for the Pontiac Aztek on this page that are in the PDF format.
Yearly Aztek Owner's Manuals
The years available stretch from 2001 through to 2005 and to view the manual you just click the name underneath.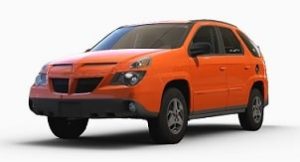 About The Aztek
Over the past couple of decades, GM has created a number of fairly short-lived SUV models, one of which was the Pontiac Aztek, marketed as a mid-size crossover between 2001 and 2005. At the same time, GM also rebadged some of the models as the Buick Rendezvous.
In its short lifetime, the Aztek received a fair amount of criticism for its appearance, with one journalist in particular, namely Dan Neil, making the rather bold claim that the Aztek "violated one of the principal rules of car design: we like cars that look like us." What he was referring to there was the front-end design in particular, which is described as having "multiple eyes and supernumerary nostrils" and that it looked "deformed and scary." These are hardly flattering adjectives.
The rear end and profile also received their fair share of comments, with one prominent reviewer describing the wheel arches as awkward and square. The rear end also didn't make use of any of the door opening styles or roof designs that many people closely associated with SUV design more generally.
Despite this, many still loved the Aztek for its unique and interesting features. For instance, the front center console also doubled up as a removable cooler, there were optional stereo controls in the rear cargo area, and GM even created a camping package that added in an attachable tent and air mattress. The real idea was to make something unique and aggressive-looking to appeal to new buyer audiences.
While its aesthetics remain controversial, it's impossible to deny that the Aztek was nonetheless a great pioneer of features. Besides the ones we already mentioned above, there was an optional driver head-up display (HUD), a sliding compartment floor with space for groceries, additional cargo nets capable of holding up to 200lbs, and much more.
The same award-winning journalist who so panned the appearance of the Aztek did, however, point out a clear concession that underneath the aesthetics was a "useful, competent crossover."