Buick Rendezvous Owner's Manual
---
You can find 6 different owner's manuals for the Buick Rendezvous on this page that are in the PDF format.
Looking For Mechanical Information?
An owner's manual is usually packed with guides on how to operate the car safely and how to maintain it.
If you require mechanical information (for fixing the car yourself for example) then you may need a workshop, service or repair manual instead.
Buick Rendezvous Service Manuals »

Yearly Rendezvous Owner's Manuals
The years available stretch from 2002 through to 2007 and to view the manual you just click the name underneath.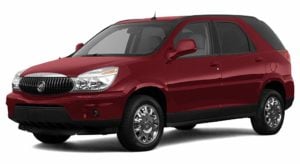 About The Rendezvous
Customers got first delivery of their Buick Rendezvous in the year 2002 and production continued until the last one rolled off the line in 2009.
The car was pitched as a crossover vehicle that would attract younger buyers to the aging Cadillac brand.
These Rendezvous owner's manuals are important PDFs that should not be ignored.
By reading the appropriate guide for your model year, you can learn how to use all of your vehicle's features and keep up with maintenance so that you get the most out of this investment.
By combining the best attributes of the minivan, with the luxury expected from a Cadillac plus the four-wheel-drive of an SUV they created a company saving package that appealed to many potential buyers.
The Rendezvous came with independent rear suspension that gave the car a comfortable ride and slightly increased performance off-road.
Inside the car, the dashboard was presented beautifully with a digital instrument cluster and warning lights with a fuel economy meter.
Engine choice was limited to around the 3.5 litre V6 mark mated to a 4 speed automatic only.
Even the choices of trim are fairly limited to just  CX, CXL or Ultra when purchasing the car.
The Buick Rendezvous was a success and outsold the manufacturer's expectations wildly though it was replaced by the Buick Enclave and Envision.