Pontiac Torrent Owner's Manual
---
You can find 4 different owner's manuals for the Pontiac Torrent on this page that are in the PDF format.
Yearly Torrent Owner's Manuals
The years available stretch from 2006 through to 2009 and to view the manual you just click the name underneath.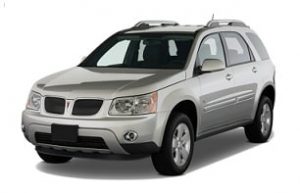 About The Torrent
The Pontiac Torrent was a short-lived crossover SUV falling into the mid-size category. It was produced by GM brand Pontiac from 2006 to 2009, which is the year in which the Pontiac brand was discontinued. The Torrent was initially created as a replacement for the Pontiac Aztek, and had its design heavily based on that of the first generation of Chevrolet Equinox.
When compared to the Equinox, the Torrent clearly shares a lot of DNA with this SUV, but has a distinctly different front-end design. The Pontiac Torrent was powered by either a 3.4-liter or 3.6-liter V6 engine paired with either a 5- or 6-speed automatic transmission. The maximum power rating on the larger 3.6-liter unit, which arrived in 2008, is 264hp and 250 lb-ft of torque.
That more powerful engine was introduced as part of a higher specification model being released in 2008, namely the Torrent GXP. It received a new 6-speed transmission, the larger and more powerful engine, 18" chrome alloys, twin hood scoops, and a longer overall body length and wheelbase.
Other trim levels of the Pontiac Torrent included the Base and the GT. While these were designed to satisfy lower and medium-sized budgets, GM pushed the high-end GXP model hardest of all, even claiming at one point that it had a major horsepower advantage over the BMW X3. The X3 model of that time got up to 260hp, whereas the Torrent GXP managed 264hp
Eventually, with GM planning on discontinuing the Pontiac brand permanently, production of the Pontiac Torrent ceased in 2009 in preparation for that event. GM's pushing of the GXP model through TV and other advertising channels was therefore largely unsuccessful. One more special edition did roll off the production lines in 2008, however, in the form of the Pontiac Torrent Podium Edition, a Canada-only trim released in time for the 2010 Vancouver Winter Olympics.