Pontiac Sunfire Owner's Manual
---
You can find 11 different owner's manuals for the Pontiac Sunfire on this page that are in the PDF format.
Yearly Sunfire Owner's Manuals
The years available stretch from 1995 through to 2005 and to view the manual you just click the name underneath.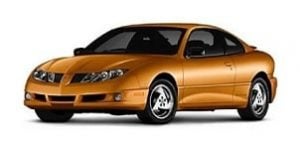 About The Sunfire
As the Pontiac Sunbird was getting ready to depart the production lines of GM, the Pontiac Sunfire was created to replace it. In 1995, the Pontiac Sunfire was launched, with some major restyling compared to the larger Sunbird. The Sunfire was sold as a compact sports car and sedan, but chiefly represented major upgrades to the Sunbird model that had become untenable when it came to meeting stricter safety standards from 1996 onwards.
In all, the Pontiac Sunfire went through 11 model years, all as a single generation. Even as a single-generation model, however, it underwent multiple facelifts, the first smaller facelift in 2000, and then a larger update in 2003.
A number of different powertrain options were available throughout all the model years, all of them inline-4 designs with displacements ranging from 2.2-liter to 2.4-liter. These were paired either with a 5-speed manual, or a 3- or 4-speed automatic transmission. GM did have plans to introduce a new standard 4-speed transmission, but a shortage of cash meant that this plan was delayed, and then eventually the car was discontinued.
Whether one was buying the convertible, the sedan, or the coupe version, the basic set of trim levels was the same. At the bottom was a standard SE trim level designed to be more budget-friendly. Higher up is the GT trim, which offered the larger 2.3-liter and 2.4-liter engine options, as well as 16-inch alloys, a dual exhaust, and a redesigned front end meant to look more aggressive and dynamic.
Among the trim levels, the convertible was the first to go, being discontinued during the 2000 model year. Eventually however, the entire line was replaced with what was originally to be called the Pontiac G5, but became known as the Chevrolet Cobalt, a new compact car introduced in the 2005 model year.