Chevrolet Cobalt Owner's Manual
---
You can find 6 different owner's manuals for the Chevrolet Cobalt on this page that are in the PDF format.
Yearly Cobalt Owner's Manuals
The years available stretch from 2005 through to 2010 and to view the manual you just click the name underneath.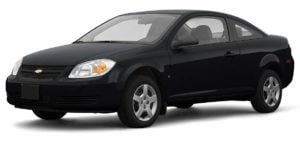 About The Cobalt
The Chevrolet Cobalt is a compact car sold in the USA, Canada and Mexico from 2004 until the second generation when the manufacturer switched the models focus to emerging markets.
It sits with other compact cars in that segment of the market such as the Mazda3 and the modern-day Toyota Corolla.
The owner's manuals on this page contain information on how to take care of your vehicle, as well as any alerts about safety issues or recall that may be associated with the model.
The car is available as a sports range that was dubbed "SS" which can include a supercharged or turbocharged version of the 2-liter engine.
When Pontiac was still an active brand they badged the Cobalt as the G5 in the USA and Canada but called it the G4 for the Mexican market.
This car has been available as a 2-door coupe or a 4 door sedan in its lifetime and customers can choose between a manual or automatic transmission.
Safety ratings for the car were pretty good though not perfect, the car seems to fall down on side-impact mostly.
In the North American market the Chevrolet Cobalt was replaced with the Cruze range which has a more sporty look and a lower center of gravity.
Sales of the Cobalt seemed to peak in the 2000s before its retirement in the North American region, though they did seem to pick up when the car was redesigned for emerging markets.