Tesla Model X Owner's Manual
---
You can find 4 different owner's manuals for the Tesla Model X on this page that are in the PDF format.
Yearly Model X Owner's Manuals
The years available stretch from 2020 through to 2023 and to view the manual you just click the name underneath.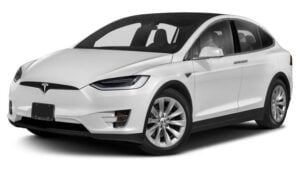 About The Model X
Since its roll-out in 2015, the Tesla Model X has led the way in electric mid-size luxury SUVs.
With the help of this owner's manual, you'll be able to quickly get acquainted with your new electric car.
This Model X was supposed to share more than half of its components with the rest of the Tesla range for efficiency but only they only managed to reach half of their target of 60%.
Instead, the basis for the SUV was the Tesla Model S sedan, they worked their way upwards from that platform and the most striking difference is the falcon-wing doors aside from the height.
The Model X was delayed by a year much to the annoyance of customers who pre-ordered. The main issues that needed ironing out were the complicated door technology and overheating of the motors when the vehicle was towing.
A discounted version of the SUV (labeled the 60D) was launched which had 80% of the battery capacity of the standard model, though this could be unlocked remotely by Tesla by upgrading.
The Model X has been described by Tesla CEO Elon Musk as being the safest SUV on the market especially in rollover tests thanks to its amazing low center of gravity. A lot of SUV's fail safety tests due to the high center of gravity leading the vehicles to roll, the Tesla keeps the bulk of its weight (the batteries and electric motors) at the bottom of the vehicle.
The original standard model featured basic coil-over suspension yet the "Smart Air Suspension" was a premium add-on until critics described the ride as too firm and choppy for such an expensive car.
Now the comfort and performance option "Smart Air Suspension" is standard but did cause the price of the base model to rise in accordance.
A smaller fastback version of the electric car on offer from Tesla is the Model 3 which traces its roots back a long time before the Model X.
In 2020 the Model Y was delivered to customers and is a compact crossover SUV so sort of like a smaller Model X.