2020 Tesla Model X Owner's Manual
---
Manual Cover
Contents (Click To Jump To Section)
Model X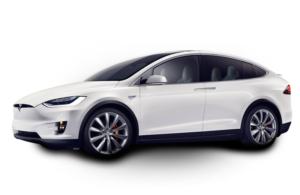 You can view the 2020 Tesla Model X Owner's Manual to the left (or above if viewing on a mobile device) underneath the image of the cover.
Clicking on the "view full screen" button will take you to a full screen version of the manual that may be easier to read.
The Model X is the SUV style electric car currently in production by Tesla Motors built on the Model S platform.
The car boasts lots of storage space for cargo and passengers and even sports unique falcon-style doors that fold upwards to make parking easier.
The 247 page owner's manual starts off with a huge index so you can find the page you need and then click the reference as a link to go straight to the page.
The overview section after the index provides a quick way for the reader to assign a name to the part of the car that is causing issues.
Afterwards a section on "opening and closing" covers the doors, windows and trunks to ensure that you can actually get in and out of the electric car.
An important safety chapter follows on next covering everything from seat-belts and child seat restraints through to the air-bag locations.
From page 53 you can learn about driving the Model X and covers such aspects as setting up a driver profile and park assist.
The Autopilot gets a whole chapter to itself spanning 33 pages to ensure you know the in's and out's of it before attempting to let it take control of your car.
Moving onto the touchscreen chapter you will learn about the digital functions in the car and how to control many of the electronics in the Tesla car.
Charging is after the touchscreen chapter and is an important read before attempting to recharge in order to avoid damaging and potentially voiding the warranty.