Tesla Model S Owner's Manual
---
You can find 4 different owner's manuals for the Tesla Model S on this page that are in the PDF format.
Yearly Model S Owner's Manuals
The years available stretch from 2020 through to 2023 and to view the manual you just click the name underneath.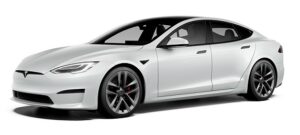 About The Model S
The Tesla Model S currently holds the record for having the longest range of any production electric car worldwide.
These owner's manuals will give you an overview of this innovative vehicle's features and specifications to help make your driving experience as easy as possible.
First available to customers in 2012 the 5-door liftback sedan features incredible software to ensure the safety of its occupants and driver-less assistance.
The car is assembled in the USA and sold mainly in that region with some sales going overseas to other Western countries.
This Model S is slightly longer than the Model 3 from Tesla and takes its design cues from the Mercedes-Benz CLS.
If you take off the body from the chassis in the Model S you will see most of its weight is flat and near the ground to ensure a low center of gravity. This low center of gravity is important for cornering and safety as it reduces the risk of rollover.
Under the bonnet where you would typically find an engine in a traditional car, you find a boot for storage, helping make the car more practical.
Tesla cars feature advanced safety features with the onboard computer watching the road and the driver constantly waiting to step in.
Collisions are less common in these cars compared to those that don't feature this technology, Elon Musk quoted that a fatality only occurs in a Tesla car roughly every 94 million miles it's driven.
There are a lot of options available to buyers of the Model S including a long-range version and a full glass panoramic roof.