You can find 7 different owner's manuals for the Fiat 500L on this page that are in the PDF format.
Yearly 500L Owner's Manuals
The years available stretch from 2014 through to 2023 and to view the manual you just click the name underneath.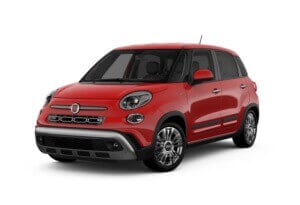 About The 500L
Starting production in 2012 the Fiat 500L is the high-roof MPV version of the revived "500" line of cars that originally started in the 1970s.
These owner's manuals for each model year provide you with all the necessary information for operating your new 500L.
The platform that the 500L is built on is shared across many of the brands owned by the parent company such as the Jeep Renegade and the new Tipo.
This 500L saw a spin-off version that had a longer wheelbase in 2018 called the 500L Living that can seat 7 occupants.
Also, the 500L Living was renamed in 2018 to the 500L Wagon.
Engine options for the 500L range from a 900cc turbo gasoline for Chinese and emerging markets all the way through to a 1.6-liter diesel.
Buyers are able to choose from a range of automatic and manual transmissions with 5 or 6 gears.
Many trims exist for the 500L from the entry-level Pop all the way up to a Sport with leather interior and built-in satellite navigation.
A 2018 update was released that upgraded the exterior styling and added an LCD screen in the dashboard for the instrument cluster.
Tests have indicated that the 500L has "Good" safety all around apart from the small overlap frontal test that plagues a lot of manufacturers since it was introduced recently.
It is said that this is because manufacturers haven't had time to optimize their vehicles for this test yet.