Fiat Bravo Owner's Manual
---
You can find 9 different owner's manuals for the Fiat Bravo on this page that are in the PDF format.
Yearly Bravo Owner's Manuals
The years available stretch from 2007 through to 2015 and to view the manual you just click the name underneath.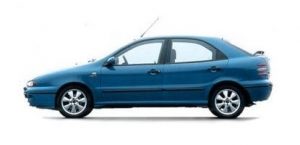 About The Bravo
The Bravo is a small family car produced by the Italian car manufacturer, Fiat.
It was sold from 2007 until just 2014 and the very first model was showcased at the Geneva Motor Show. Where Fiat created and designed the Bravo, the Austrian Automotive company Magna Steyr had a large hand in engineering certain aspects too.
The Bravo was produced in the Fiats Piedimonte Germano Plant and featured a number of new technologies and appealing features for the modern driver. 'Blue and Me' was built into all models, (a system that was also installed in the Fiat Grande Punto). 'Blue and Me' was fully voice activated and created in conjunction with Microsoft to allow a completely hands-free cell phone experience, to allow SMS messages to be displayed on the car's monitor.
A few years after its debut 'What car?' announced, following an interview with Fiat, that the Bravo would soon be available as a station wagon but unfortunately, this version never hit the market.
The Bravo faired well in the Brazilian Market and from 2010, there were several trims available with 2 different engine configurations. These were 1.8-liter 16 V 5 speed manual and 1.4-liter 150 hp 6-speed manual. The Trims available in Brazil were Absolute, Trim Essence, Essence Wolverine Limited edition, Sporting and the T-Jet. The Bravo ended production in 2016 – replaced instead by the 500X model.
In other markets, the 3 different petrol engines and 3 different diesel engines were combined with the various trim levels in an attempt to allow the vehicles to be customizable to whichever level the customer required. The T-Jet featured a sport button which when pressed, triggered the 'over boost function.' These vehicles also had Fiats 'Eco Pack' which allowed for changes to the car's aerodynamics, fuel consumption and ECU.