Fiat Talento Owner's Manual
---
You can find 5 different owner's manuals for the Fiat Talento on this page that are in the PDF format.
Yearly Talento Owner's Manuals
The years available stretch from 2016 through to 2020 and to view the manual you just click the name underneath.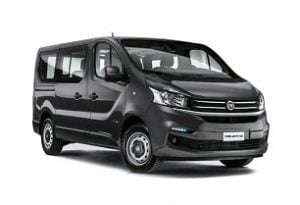 About The Talento
The Fiat Talento is a light commercial van that was produced by the Italian carmaker between 2016 and 2020. During this time, Fiat only released a single generation.
It was eventually discontinued after Renault announced that it would not be continuing to supply the Talento to Fiat due to the Italian carmaker joining PSA Group in a merger.
Like many models found within the Stellantis Group, it is simply a rebadged and slightly restyled variant of the already existing and very popular Renault Trafic. The high praise the Trafic received made it a fairly obvious choice for Fiat to release a rebadged version.
Being virtually the same model as the Trafic, it shares the same 4-door van layout and is driven only through the front wheels. It was also capable of seating up to 8 passengers, along with the driver.
Other similar models include the Toyota ProAce and the Opel/Vauxhall Vivaro.
Trim levels consist of four base options. These include the Standard, followed by SX, Tecnico, and Sportivo. While not technically premium options, the latter two options did represent the top-tier trims.
Initial powertrain options consist of only one diesel engine. However, this 1.6-liter R9M inline-4 engine came with four different configurations. Fiat released two single turbocharged versions and two twin-turbocharged versions all with varied power outputs.
Fiat later replaced this engine with a 2-liter with three varied power outputs. Like its corporate cousin, there was never a petrol or electric version released.
Transmission options consisted of only a 6-speed manual at the beginning of its time on the market. However, a 6-speed direct-shift automatic gearbox was later released.