Renault Trafic Owner's Manual
---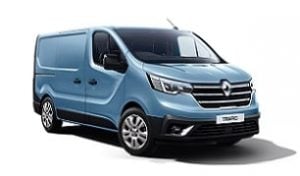 About The Trafic
The Trafic is a light commercial van that has been produced by Renault since 1980. During this time, the French manufacturer released three generations. The latest version made its debut in 2014.
The second-generation models received two facelifts. These came in 2006 and 2012.
Depending on the region the vehicle is being sold, it is also sold as the Fiat Talento, Mitsubishi Express, Opel Vivaro, and Nissan NV300. It is also in the same class as its competitors, the Mercedes-Benz Vito and Volkswagen Transporter.
It features a 4-door van layout with front-wheel drive. Only the first generation models featured rear-wheel and four-wheel drive. This is available as either a crew van or panel van configuration.
Additional options include short and long wheelbases, along with low or high roof configurations.
The newest versions are capable of a maximum payload of up to 1251 kg for the panel van.
Trim levels for the latest version, the updated model that debuted in 2022, consist of the base Business, followed by the Business+, Sport, and Sport+. The Sport+ trim option was released as part of an update to the model in 2022.
Powertrains have been limited to only diesel engines since the latest generation. These have ranged between 1.5-liter and 2.5-liter inline-4s. The third-generation powertrains come with three different power outputs for both engine sizes, maxing out at 125 kW and 380 N.m.
The last petrol engine offered was a 2-liter inline-4 offered in the second generation.
These have typically been mated with either a 6-speed manual, Quickshift automatic, or dual-clutch automatic.