Ford Explorer Sport Trac Owner's Manual
---
You can find 9 different owner's manuals for the Ford Explorer Sport Trac on this page that are in the PDF format.
Yearly Explorer Sport Trac Owner's Manuals
The years available stretch from 2001 through to 2010 and to view the manual you just click the name underneath.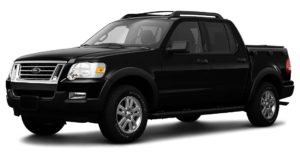 About The Explorer Sport Trac
The Ford Explorer Sport Trac is usually referred to as the Ford Sport Trac and was manufactured and marketed in the USA.
It was put into production as the pickup truck version of the popular Ford Explorer SUV and shared its platform with the 2nd generation Explorer.
On this page are the owner's manuals for the Ford Explorer Sport Trac, they cover all of the features and specifications that come with this vehicle.
Competing in the pickup truck market offers many opportunities to carmakers but the segment is already filled with strong competitors such as the Ford F-150 and Chevy Silverado.
Just as the Sport Trac was put out of service the Explorer SUV saw its fifth generation of design roll off the production line.
The original pickup truck lacked any real choice of engine in the first generation although in the second generation it was extended to 2 engine choices.
Engines in the second generation were both V8's ranging from 4.0 litre's to 4.6 litre's and the choice of transmission was either a 5 or 6 speed automatic.
The second-generation Sport Trac did acquire a lot of the updates that were released with the 4th generation Explorer such as stability control and active rollover protection.
Another great addition to the 2nd generation model was the inclusion of the four-wheel independent suspension increasing performance both on and off-road.
Customers of the 2nd generation truck can choose from one of four trims including Adrenalin, Limited, XLS and XLT.
The performance-heavy Sport Trac Adrenalin option added more aggressive styling to the truck although the engine was not up-rated.