Chevrolet Silverado Owner's Manual
---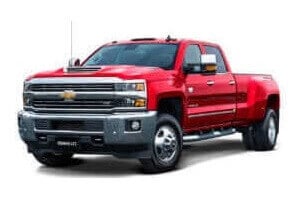 About The Silverado
The Chevrolet Silverado is a full-size pickup truck built for the American and Mexican markets where fuel is cheaper than the rest of the world.
There are many things that you need to know in order to drive the pickup safely and efficiently, all covered in the PDF owner's manuals on this page.
Also, the GMC Sierra shares the same platform as this car and many mechanical parts overlap between the 2 models.
A heavy-duty version of the Silverado exists and is sold as the Cheyenne, popular in Mexico and with police forces needing a large rugged truck.
All of the various versions and trims of the truck are covered in the yearly Chevrolet Silverado owner's manual embedded on this site as PDFs.
Engines for the original car vary wildly from the 4.3-liter V6 all the way through to the mammoth 8.1-liter V8, mated to a 4-speed automatic transmission only.
The second generation and everyone since has seen the choice of engines remain on the larger end of the scale but the added manual transmission helped attract more commercial and performance-hungry buyers.
More recent versions of the Silverado feature a 10-speed automatic gearbox only to focus on achieving the best possible fuel economy in today's environmentally sensitive culture.
A diesel engine option was also added to the most recent version as the price of the fuel has dropped to match gasoline due to the reduction in demand worldwide.
Sales of the Chevrolet Silverado (not including the GMC Sierra) have remained pretty steady as the years continue and new generations revive the model.
FAQ's
Q: Where is the Chevrolet Silverado manufactured?
A: Assembly of the most recent Silverado takes place in 4 locations around the world. In the USA it is assembled in Michigan and Indiana, in Australia it is assembled in Melbourne and in Mexico it is assembled in Silao.
---
Q: Where is the jack on a 2019 Chevrolet Silverado?
A: According to the manual, for the 2019 (and probably onward many years) fourth-generation Silverado you can find the jack to lift the car underneath the passenger seat in the front.
---
Q: How do you turn on accessory mode on a Chevrolet Silverado?
A: To engage the accessory mode that allows you to use the radio and electric windows you press the engine start/stop button without touching any of the pedals, all while the engine is still off.
---
Q: How do you remote start a Chevrolet Silverado?
A: Hold down the Lock button on your key fob until the turn signals flash to turn on the engine from the outside of your Silverado. The engine will now run for up to 10 minutes while in Remote Start mode.