Ford Focus Owner's Manual
---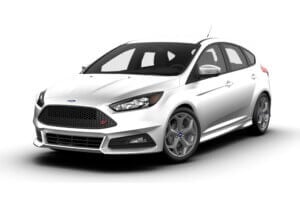 About The Focus
In an attempt to create a compact car that could be sold globally by the auto manufacturer designers hit the drawing board and created the Ford Focus.
It sits above the Fiesta in terms of size and price and competes with other compacts such as the Mazda3 and Toyota Corolla.
The owner's manuals listed on this page will help you identify which features are available on your model and what options are out there for purchase if you decide to upgrade in the future.
The British and German teams that worked on the original hatchback in the mid to late 1990s set out to replace the aging Ford Focus and create something that could be sold all around the world.
First examples of the car were delivered to customers in early 1999 after a last-minute legal battle in Germany over the use of the "Focus" name.
The car could be customized by the buyer who could opt for a 3 door hatchback a 4 door sedan or even a 5 door wagon/estate layout.
Shortly afterward in 2002 came the sporty RS trim that boasted a 2-liter turbocharged engine and limited-slip-differential on the front axle (the only one that was powered).
This RS also contained racing Brembo brakes and customers were amazed to find that 70% of the parts on the RS version were either unique or up-rated from the standard model.
Eventually, the release of the second-generation Ford Focus happened in 2004 and saw the car grow much larger and obviously longer with a stiffer bodyshell and more comfortable ride.
The first performance trim for the second generation was named the ST and featured a 225bhp 5 cylinder turbocharged engine from Volvo.
Then the RS trim from the first generation made an appearance on the second generation in 2009 featuring an up-rated version of the ST engine.
2011 saw the release of the third-generation Ford Focus and the car was redesigned with elderly customers in mind using a cutting-edge suit worn by testers to simulate the perils experienced by older people.
All aspects of the Focus were improved inside and out with the performance trims also getting revised for the new generation with a "drift" button added to aid drifting.
When the fourth generation of the car became available in 2018 the company also offered a new trim called "Active" that turns the Focus into a compact crossover SUV.
Alongside this Active trim was a whole host of other options including:
ST
ST-Line
ST-Line Edition
ST-Line X
ST-Line X Edition
Style
Titanium
Titanium Edition
Titanium X
Titanium X Edition
Vignale Edition
Zetec
Plans for a performance RS trim are said not to be planned for the latest generation of the Focus but plans do sometimes change.