Ford Freestar Owner's Manual
---
You can find 4 different owner's manuals for the Ford Freestar on this page that are in the PDF format.
Yearly Freestar Owner's Manuals
The years available stretch from 2004 through to 2007 and to view the manual you just click the name underneath.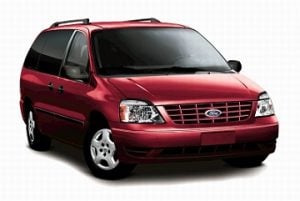 About The Freestar
The Ford Freestar originally started life as the Ford Windstar and was also sold as the Mercury Monterey by its sister brand.
Owner's manuals are an important resource for drivers to understand the history, specifications, and technical data of their vehicles.
The PDFs featured on this page contain detailed illustrations with instructions on how to use your vehicle.
This minivan was a replacement for the aging Aerostar range that had been in production since the mid-1980s.
As the minivan categorization of the car went out of fashion sales of this line went down and so was replaced by a more "SUV" like model called the Taurus.
With heated competition coming in from Japan in the minivan market the Aerostar needed a replacement and so the Winstar was born out of a need to switch to front-wheel-drive and get the weight down drastically.
Engine options in the original vehicle were a 3 or 3.6 litre V6 mated to a 4 speed automatic. The later (2004 onward) true "Freestar" branded model added larger engine choices and kept the simple 4-speed automatic transmission.
The later generation Freestar branded minivan also added a third row of seats that folded flat to the floor to increase storage space.
Among these later generation models you will find some of them have the following trims:
Sales of the Freestar started out amazing but quickly fizzled out as customers flocked to SUVs like the Ford Explorer.
This model was discontinued in 2007 as many automakers moved away from minivan/people-carrier-shaped cars and to modern crossover SUVs.