Honda Element Owner's Manual
---
You can find 5 different owner's manuals for the Honda Element on this page that are in the PDF format.
Looking For Mechanical Information?
An owner's manual is usually packed with guides on how to operate the car safely and how to maintain it.
If you require mechanical information (for fixing the car yourself for example) then you may need a workshop, service or repair manual instead.
Honda Element Service Manuals »

Yearly Element Owner's Manuals
The years available stretch from 2007 through to 2011 and to view the manual you just click the name underneath.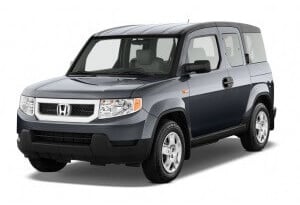 About The Element
The Honda Element was assembled and marketed exclusively within North America between the model years 2003 and 2011.
It used the same platform as the CR-V but with modifications that took it away from being a crossover and into a traditional SUV configuration.
The following owner's manuals have all the information you need to know about owning and maintaining your Element.
Some quirky features made it stick out from the rest of the cars on the market such as the bi-prating rear doors and the removable rear seats.
It was marketed as an activity vehicle that could offer amazing access for cargo with the ability to go light offroading.
Inside the Element wear stain-resistant seats with plastic-covered flooring making it easy to clean out when very dirty.
In 2007 the car won an award for being "dog car of the year" that shows just how these rare features worked to help the car sell.
Honda embraced this and introduced a $1,000 upgrade package that added many canine-friendly features including a rear fan and a ramp that was attached to the rear tailgate.
The Honda Element was marketed at a younger, more active customer with the advertising campaigns taking advantage of social media (Myspace) and cartoons.
Customers could opt for a front-wheel-drive version of the car during the purchase or upgrade to a full four-wheel-drive if required.
In the final few years, the Element was offered in the LX, EX, EX with Navigation, and SC trims and all were fitted with a 5-speed manual transmission.