Honda Odyssey Owner's Manual
---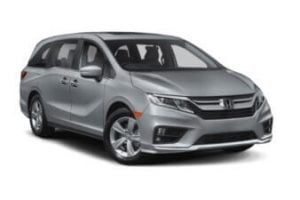 About The Odyssey
Today the Odyssey is in its fifth generation of design and is a much different beast than its original 1990's version.
The owner manual's on this page are for the North American version of the Honda Odyssey which is a minivan that entered production in 1995.
Hard economic conditions meant that the Odyssey project needed to be as lesser of a risk as possible so the model was a sensible design in a reconfigured manufacturing plant (compared to one that was custom built).
This car originally created the classification "compact MPV" as it had all the features of that sort of car with less weight and smaller dimensions.
Its smaller size was ideal for the Japanese auto market as they have tighter restrictions on vehicle sizes and taxes based on engine displacement.
Over the years and as the car has been redesigned the size did grow along with the power available from the engine.
Isuzu also released the Odyssey but badged it as the Oasis. Honda released their version in Europe but called it the Shuttle.
The platform of the minivan is shared among other Honda and Acura models, with the most popular being the MDX and Accord.
An important high level of safety for the occupants has been a priority of Honda's with the Odyssey and this car does not disappoint, only falling slightly back on rollover risk like most tall cars.
Modern examples of the car can be found sporting the following trim badges:
Elite
EX
EX-L
LX
SE
Touring
Touring Elite