Infiniti QX50/QX55 Owner's Manual
---
You can find 9 different owner's manuals for the Infiniti QX50/QX55 on this page that are in the PDF format.
Yearly QX50/QX55 Owner's Manuals
The years available stretch from 2014 through to 2022 and to view the manual you just click the name underneath.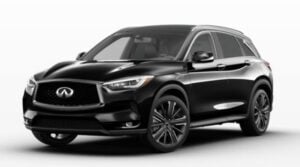 About The QX50/QX55
The Infiniti QX50 is a compact luxury crossover SUV that was initially known as the EX until a name change in 2013.
It sits underneath (in terms of size) the mid-size crossover SUV QX60 from the same Japanese luxury automaker.
The only problem is that it can be difficult to figure out how everything works inside the car.
That's why Infiniti put together these handy QX50 owner's manuals, which include instructions on all the features of the car as well as tips on how to get the most use out of your new ride.
If you look at the modern examples of the car you will see that it shares a chassis with the Nissan Rogue compact crossover SUV.
Original models pre-2017 were built upon the same chassis as the Nissan Skyline and 350Z.
All of the post-2017 models of the QX50 are sold with the same engine and transmission, a turbocharged 2-liter gasoline mated to a CVT.
Most of these examples sold are fitted with a front-wheel-drive but for some trims, you are able to upgrade to a four-wheel-drive if desired.
The QX55
Introduced in 2021 for the 2022 model year is the QX55 version of the QX50, with the main difference being that it is a coupe SUV.
This basically translates to the new version having a more sloped roof design and takes over from the FX line.