Infiniti Q60 Owner's Manual
---
You can find 10 different owner's manuals for the Infiniti Q60 on this page that are in the PDF format.
Yearly Q60 Owner's Manuals
The years available stretch from 2014 through to 2023 and to view the manual you just click the name underneath.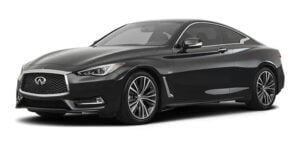 About The Q60
The Infiniti Q60 began production in 2013 for the 2014 model year as a replacement for the "G" line.
This new model was essentially a rebadged version of the old one for a year or so before Infiniti moved it onto the Nissan Skyline platform.
These owner's manuals provide important information about how to care for your new car, including detailed instructions on how to properly maintain the engine oil, coolant levels, battery life and more.
Compared to its predecessor this car is wider and lower with the equipment you would expect to see in a sports car such as dynamic digital suspension.
Another aspect that sticks out about the car is that you can find it in a wide range of trims from entry-level Pure through to the hardcore Project Black S version.
The Project Black S variant of the car is a concept developed alongside the Renault Sport Formula One Team and features an energy regeneration system inspired by the Motorsport.
Although there was huge media attention to the stunning matte-gunmetal colored car Infinite announced the project was canceled in 2021.
This Q60 is the largest sedan currently in production (the other being the Q50) from Infiniti and sits alongside its crossover SUV counterpart the QX60, although they don't share a chassis.
Built into this car you can find a wide range of safety technologies including predictive forward collision warning and pedestrian detection.