Infiniti QX60 Owner's Manual
---
You can find 10 different owner's manuals for the Infiniti QX60 on this page that are in the PDF format.
Yearly QX60 Owner's Manuals
The years available stretch from 2014 through to 2023 and to view the manual you just click the name underneath.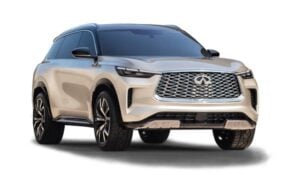 About The QX60
The Infiniti QX60 was originally called the JX until 2013 when the Japanese automaker had a reshuffle with the naming of their SUV range.
It is a mid-size luxury crossover SUV that slots in underneath its larger counterpart, the QX80.
These owner's manuals are an in-depth guide to the operation of your new car.
It goes over all the features and how to use them, as well as troubleshooting tips for when something doesn't go according to plan.
Underneath the original QX60, you will find the same chassis used on the Nissan Pathfinder but limited to the larger displacement engine options.
With the introduction of the second-generation model in 2022 of the SUV, the platform is now used on many more cars.
You can find the second-generation car sharing its platform with the Maxima and Murano, tweaked to allow for better offroad capabilities.
The newer version of the car boasts a 9-speed automatic transmission and is limited to a 3.5-liter gasoline V6 only.
Safety scores for the QX60 are fantastic with NHTSA awarding it near 5 out of 5 stars for all disciplines, only falling back slightly on rollover risk and frontal driver/passenger.
The list of the features included as standard is huge for the Infiniti QX60 and includes electrical outlets and a BOSE 13-speaker surround audio system.