Infiniti QX80 Owner's Manual
---
You can find 10 different owner's manuals for the Infiniti QX80 on this page that are in the PDF format.
Yearly QX80 Owner's Manuals
The years available stretch from 2014 through to 2023 and to view the manual you just click the name underneath.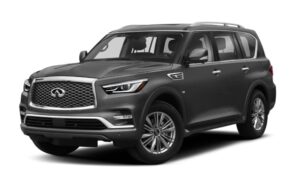 About The QX80
Originally the Infiniti QX80 was known as the QX56 until 2013 when the Japanese automaker adopted the new model name.
It was brought in to replace the QX4 model (the first SUV offering from Infiniti) that was based on the Nissan Pathfinder SUV.
If you're considering making the purchase of this high-end SUV, then you need to know about some of the features that are available on this model before you make your decision.
In the owner's manuals for each model year, you can find some of those features as well as considerations when buying a QX80.
Underneath this car is the same platform that is used under the Nissan Patrol/Armada full-size SUV.
This version is significantly different than the Nissan one with a luxury interior and a suite of advanced comfort and safety features expected as standard.
Looking at when the model went from the QX56 to the QX80 you can see a huge change in the styling and shape.
The new version of the car looks more on point with the Cadillac Escalade, one of the model's biggest competitors in the USA.
Engine and transmission choices are non-existent, you only have a 5.6-liter V8 mated to a 7-speed automatic transmission on offer.
In terms of features, the QX80 is full to the seams with the latest technology including all-around LED lighting and individual televisions for each passenger.
Each year the car sells between 15,000 and 20,000 units targetting a small niche of people who still want a full-size SUV with offroad capability.
In 2018 the Infiniti QX80 received a facelift that tidied up the front end of the car while mechanically not much changed.