Jeep Commander Owner's Manual
---
You can find 5 different owner's manuals for the Jeep Commander on this page that are in the PDF format.
Looking For Mechanical Information?
An owner's manual is usually packed with guides on how to operate the car safely and how to maintain it.
If you require mechanical information (for fixing the car yourself for example) then you may need a workshop, service or repair manual instead.
Jeep Commander Service Manuals »

Yearly Commander Owner's Manuals
The years available stretch from 2006 through to 2010 and to view the manual you just click the name underneath.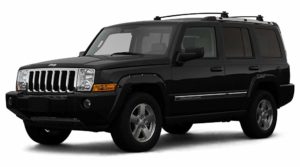 About The Commander
For 5 years the Jeep Commander was built and sold to those who wanted a 3 row (of seats) SUV from 2005 to 2010.
The car was replaced by the Dodge Durango as the company had little faith in the Commander model carrying on.
Standard models came with an array of features to ensure that the car could compete with others on the market such as stability control and key-less entry.
You might not know how to use all of these features properly without reading the owner's manual first.
The PDFs linked from this page go through what you need to know about your new Jeep Commander so you can be sure to take advantage of everything it has to offer.
Off-road was possible with this Jeep, something important that the brand is known for and the large capacity engines that were available ensured it could pull itself across all terrains.
To target as many markets as possible multiple trims were released: Sport, Limited, Overland, 65th Anniversary and Rocky Mountian.