Jeep Patriot Owner's Manual
---
You can find 11 different owner's manuals for the Jeep Patriot on this page that are in the PDF format.
Looking For Mechanical Information?
An owner's manual is usually packed with guides on how to operate the car safely and how to maintain it.
If you require mechanical information (for fixing the car yourself for example) then you may need a workshop, service or repair manual instead.
Jeep Patriot Service Manuals »

Yearly Patriot Owner's Manuals
The years available stretch from 2007 through to 2017 and to view the manual you just click the name underneath.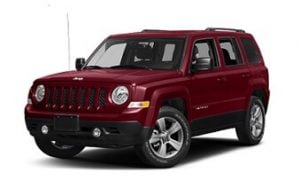 About The Patriot
The production of the Jeep Patriot started back in 2006 just after it was relieved to the public alongside its larger sister model the Compass.
These 2 Jeep models share the GS platform with the Dodge Caliber while the styling visible on the outside is completely different.
If you own a  Patriot, it's important to know how to use the car through the official owner's manual PDF.
The manual is full of helpful information on topics like driving your vehicle, maintaining your vehicle and even repairing (or replacing) parts.
Although sales were climbing every year the Patriot was discontinued in 2017 and potential customers were forwarded onto the Compass model.
The car only received one face-lift during its lifetime and it wasn't a very substantial one.
Special edition models were made available such as the 70th Anniversary variant that included a premium sound system with sub-woofer, leather heated seats and unique alloy wheels.
An electric version of the Patriot was planned but later canceled. A plug-in hybrid version was also on the table but efforts were put elsewhere in the Jeep range to modernize and electrify its range.
The range of engines for the car was never very diverse with the displacement of the 3 options hovering around the 2 litre mark though you did have the choice of gasoline or diesel fuel.
Transmission options were fairly limited too. A 5 or 6-speed manual could be fitted or a 6 speed automatic – although a CVT option became available it wasn't popular.
Buyers were able to choose from a list of trims though such as:
Altitude
High Altitude
Latitude
Limited
Rocky Mountain
Sport
The top trim for the Jeep Patriot was the "Limited" and included an electric sunroof, a powered driver's seat and Bluetooth connectivity for mobile devices.