Jeep Grand Cherokee Owner's Manual
---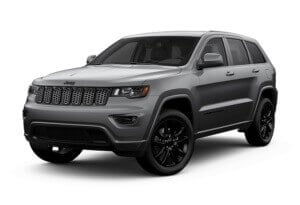 About The Grand Cherokee
The Jeep Grand Cherokee is a mid-sized SUV from the American auto manufacturer known for its tough off-road vehicles.
It's been a top-selling vehicle for many years and has won numerous awards from the automotive industry.
These owner's manuals will provide you with information on how to properly maintain your Jeep Grand Cherokee, including parts identification, maintenance requirements, engine specifications, etc.
This Grand Cherokee was supposed to be the successor to the original Cherokee range but that model was revived in 2014 as a smaller SUV.
Since its release in 1992, the Grand Cherokee has gone through 4 different designs and gained additional features such as height-adjustable suspension and DVD players in the rear.
Construction of this car involves a rarer body-on-frame technique where the chassis is made independently of the body which is then attached on top, much like older cars at the start of the 20th century.
Engine options for the Grand Cherokee have always been on the larger side with V6's and V8's being popular with the additional option of supercharging on some models.
The popular Hemi V8 engine has been added to some models as of 2011, an option you are more likely to see on muscle cars rather than SUVs.
The SRT8 version of the Grand Cherokee gives the driver an incredible 470 BHP under their foot while the supercharged V8 version an eye-watering 707 BHP.
Alongside the performance-based trims are many standard versions too that allow the car to appeal to a range of budgets, including examples such as:
Altitude
High Altitude
Laredo
Laredo E
Laredo X
Limited
Overland
Overland Summit
SE
Sport
SRT
SRT8
Summit
Trackhawk
Trailhawk
TSi
Sales of the car have remained steady over the many years that it has been available sitting at around a quarter of a million examples per year, peaking during face-lifts.
In 2021 the fifth-generation model of the SUV was released to the market and saw a drastic change to the platform it now sat on.
It shares this sportier and less off-road focused chassis with the Alfa Romeo Giulia, a road-going four-door luxury sedan.
The new Grand Cherokee boasts an 8-speed automatic transmission and the choice of a gasoline V8 or V8 – there is even a 2-liter turbocharged gasoline plug-in hybrid on offer too.
FAQ's
Q: How often do you change transmission fluid in a Jeep Grand Cherokee?
A: According to the manual, Jeep claims you should change the transmission fluid every 100,000 - 120,000 miles. It's usually a good idea to tie it in with a service around that point.
---
Q: Do Jeep Grand Cherokees come in manual?
A: The most recent version (as of 2021) Grand Cherokee is only offered with an 8-speed automatic transmission. Controlling this new automatic transmission is done by a rotary knob rather than a traditional shifter.
---
Q: How often does a Jeep Grand Cherokee need an oil change?
A: If your Grand Cherokee is filled with traditional oil then the manufacturer recommends that you change it and the filter every 3,000 - 5,000 miles. If you decide to top it up with synthetic oil instead then it can last up to 10,000 miles before being changed according to the owner's manual.
---
Q: Can you roll your Jeep windows down with the key fob?
A: To roll down the windows on your modern Jeep Grand Cherokee from outside the car you can use the key fob. Keep your finger on the door lock button for longer than you usually would and all windows will roll down.
---
Q: How many miles do Jeep Grand Cherokees usually last?
A: As long as the car has been serviced regularly and properly maintained a Jeep can go on for hundreds of thousands of miles due to its solid construction.