Jeep Wrangler Owner's Manual
---
About The Jeep Wrangler
The Jeep Wrangler JK entered production in 2006 after 5 years of development by DaimlerChrysler and became available to purchase in the 2007 model year.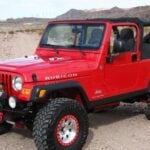 This initial JK version was available in 2 variants to the public; a short wheelbase or a long wheelbase, with both being noticeably wider than its predecessor the Wrangler TJ.
Unlike previous versions of the Wrangler range, this generation contains a computer that controls a lot of the thinking that the driver would have had to do before to make it easier to drive.
Underneath the modern Wrangler is a platform that is shared with the newer Jeep Gladiator pickup truck.
Engine management, stability control and brakes get assistance from the ECU through drive-by-wire.
Nowadays the car comes with the choice of a 2.8-liter diesel engine or a 3.6/3.8-liter gasoline V6 mated to a 4/5 speed automatic or 6-speed manual transmission.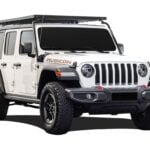 The JL version was released as the successor of the JK (you can find owner manuals for both versions on this page) in 2017.
With the Jeep Wrangler JL, you have a wider range of engine options including smaller displacement and a plug-in hybrid for the first time.
The transmission options have been updated to include a 6-speed manual or 8 speed automatic for a more economical driving experience.
In terms of safety, the Wrangler JL scores 1/5 stars with NCAP with the headlights dragging the score down considerably.
Aside from safety, the Jeep Wrangler JL won many awards from publications that love it as an SUV and off-road capable vehicle.
In order to customize your version of the car to how you want it the company allows you to choose from a very long list of trim options including:
Altitude
Arctic
Backcountry
Black Bear
Call of Duty
Freedom Edition
Islander
Laredo
Moab
Mojave
Mountain
Polar Edition
Renegade
Rio Grande
Rocky Mountain
Rubicon
S
Sahara
SE
Sport
Sport S
Unlimited
X