Pontiac G6 Owner's Manual
---
You can find 6 different owner's manuals for the Pontiac G6 on this page that are in the PDF format.
Yearly G6 Owner's Manuals
The years available stretch from 2005 through to 2010 and to view the manual you just click the name underneath.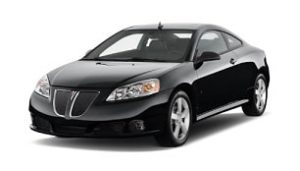 About The G6
The Pontiac G6 was produced from 2004 to 2010, with the first models being released for the 2005 model year. It was among the last models produced under the Pontiac brand, with GM shutting the brand down in 2010. The G6 shared a platform with the Chevy Malibu, as well as the Saab 9-3, among others at GM.
During its relatively short production run, the G6 was made available as a 2-door convertible, 2-door coupe, and a 4-door sedan model. It was marketed initially for such innovative features as a remote starting system, traction control, and improved electronic stability control. It also had a panoramic sunroof as an option, not to mention automatic headlights, all of which were quite novel at the time, even if they seem commonplace now.
Under the hood of the Pontiac G6 one would find a range of gasoline engines with displacements from 2.4-liter inline-4 to a 3.9-liter V6. General Motors also released some versions with a gasoline/E85 fuel engine, either in a 2.4-liter 4-cylinder or 3.5-liter V6 configuration. The most impressive powertrain offered was the 3.6-liter DOHC V6 engine that could deliver up to 252hp in total, even more than the 240hp offered by the 3.9-liter V6 option.
The IIHS gave the Pontiac a score of "Good" in their main frontal crash test, but it didn't get a better score on the side impact crash test until side airbags were added in the 2006 model year. Of course, most people were unaware of this fact at the offset, however, being distracted as they were by the rather unusual marketing scheme used to promote the car. A total of 276 models were given away to Oprah Winfrey's audience members in a memorable 2004 episode.
In terms of interior design, the G6's external curves and rounded corners were reflected in an equally curvy dashboard with chrome-accented round instrument displays and an otherwise simple but sophisticated finish. After initially selling well in the 2005 to 2008 model years, the car's popularity dropped off as the Pontiac badge was starting to wrap up.