Chevrolet Malibu Owner Manual's
---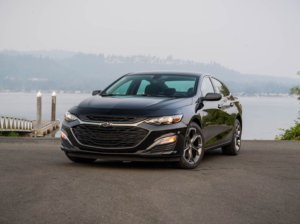 You can find 26 different owner's manuals for the Chevrolet Malibu on this page that are in the PDF format.
The years available stretch from 1997 through to 2021 and to view the manual you just click the name to the left (or above if viewing by mobile).
About The Chevrolet Malibu
A mid-sized car that's ideal for transporting the family around is the Chevrolet Malibu that has been manufactured since the mid 1960's.
The model had a 14-year break from 1983 through to 1987 when the range was revived and turned into a front-wheel-drive car whereas the originals were rear-wheel-drive.
This new FWD release shared the same platform as some other General Motors cars such as the Buick Skylark, Oldsmobile Alero and Pontiac Grand Am.
The 2008 release of the seventh generation of the Maliba brought with it a choice of hybrid engine and a 6-speed automatic gearbox to push even more miles per gallon from gasoline.
With the eighth generation release customers had an even larger choice of engine sizes starting from a pokey 1.5 litre turbo through to a high-torque 3 litre V6. Customers also gained the ability to choose diesel as a fuel type for the first time in the Malibu range, though the choice of the hybrid was no longer available.
With the ninth generation in 2016 (being the most recent version available) hybrid was brought back as a choice for purchasers of the Malibu.
Common Problems With The Malibu
Transmission – for Malibu's built around 2010 (eighth generation) owners were finding it common that the transmission would fail after the car had passed 100,000 miles. Costs are quoted at around $3,250 for a complete replacement in order to make the car work again
Fuel – a loss of control over power as well as stalling could be a sign that the fuel system is failing. This can occur much earlier than transmission problems only after 5,000 miles
Steering – on the less severe end of costly repairs is the failure of the steering column. Though this sounds expensive it isn't and costs are around $100
Chevrolet Malibu Oil Type
Inside the owner's manual you can find a reference to the oil type needed and the fill capacity. To make things easier we have a sister-site that lists the different trims of the Chevrolet Malibu and the appropriate oil you need at OilType.co.