Pontiac Grand Am Owner's Manual
---
You can find 14 different owner's manuals for the Pontiac Grand Am on this page that are in the PDF format.
Yearly Grand Am Owner's Manuals
The years available stretch from 1992 through to 2005 and to view the manual you just click the name underneath.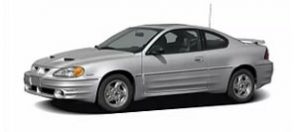 About The Grand Am
The Pontiac Grand Am was both a mid-size and compact car produced by the Pontiac division of GM over a number of different production periods. It was first launched in the mid-1970s, specifically from 1973 to 1975, and then again from 1977 to 1980. It was then replaced with the Pontiac 6000, but returned to the market from 1984 to 1985.
Over these three production periods, the Pontiac Grand Am was made available as a 2-door fastback coupe, a 2-door notchback coupe, a 4-door fastback sedan, and a 4-door notchback sedan. Its earliest models had Strato bucket seats, body-colored bumpers, a 60/40 rear bench seat, and engines designed to meet more stringent emissions standards.
While detuned, early engines also included mighty 6.6-liter and 7.5-liter V8 options with up to 4-barrel carburetors. They were detuned in the first years to meet not just emissions standards, but the need for greater fuel efficiency in the wake of the energy crisis at the time. Over the years, the powertrains were toned down somewhat, ending up with a 2.2-liter or 2.4-liter inline-4, or a 3.4-liter V6 as the options in the final models leading up to 2005.
It also served as a key replacement vehicle for a number of other Pontiac models in different markets. In 1973, for example, the first Grand Am models were released as a replacement for the Pontiac LeMans. On the other hand, in 1992 the Canadian market received the new Grand Am as a replacement for the Pontiac Tempest. In 1985, the Grand Am replaced the Pontiac Phoenix, quickly becoming the marque's best-selling car, but was ultimately replaced in 2005 with the G6 model.
In the 1990s, the Grand Am enjoyed strong sales over 200,000+ units year on year all the way to 2000 (except 1998), after which time the car fell into some decline.