Renault Talisman Owner's Manual
---
You can find 8 different owner's manuals for the Renault Talisman on this page that are in the PDF format.
Yearly Talisman Owner's Manuals
The years available stretch from 2015 through to 2022 and to view the manual you just click the name underneath.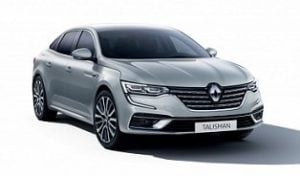 About The Talisman
The Talisman is a large family car created by the French car manufacturer Renault. Brought to market in 2015, the Talisman replaced both the Laguna and Latitude.
Renault sold the Talisman as the 'SM6' in South Korea, the name change reflecting the different team that produced it for that market, Renault Samsung. Renault explains that the word 'Talisman' represents 'a magical object providing protection against ill will.'
The Talisman first debuted as a salon in 2015 and then months later as an estate at the Frankfurt Motor Show. It shared a platform with the Renault Espace, constructed on the CMF CD Platform.
Renault restricted sales in certain locations as they decided they would not make a right-hand version, meaning that countries like the UK or Japan didn't see it.
The Talisman was quite a bit larger than its Laguna counterpart and as such was Renault's attempt to move into the rapidly growing family market. The appearance of the car was kept traditional so as to appeal to business customers as well as parents. In fact, the Talisman was Renault's first large car appealing to these demographics since the 1980s.
The trims available were PE, SE, LE and RE, and just three years after its initial release, was given a slight facelift, but only for South Korea. This update improved upon the internal technology and slight exterior restyling.
There were several car settings so that the vehicle could accommodate for any intended use and road, these were Comfort, Sport, Eco, Neutral and Person, the latter allowing the driver to custom program their desired settings.
Each vehicle had an 8.7-inch touchscreen infotainment system and came in a variety of either petrol or diesel engines. Production ended in Europe in 2022 after declining sales.