Renault Espace (incl. Grand) Owner's Manual
---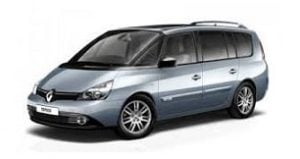 About The Espace
The Espace is a 5 door large minivan created for production in 1985 by the French automaker, Renault. Espace, simply is French for 'space.'
It took several years to develop and was the brainchild of the British designer Fergus Pollock. Pollock originally worked for Chrysler and throughout the 1970s drafted an early version of the 7-seat car.
When Chrysler was sold to PSA Peugeot Citroen, it was decided that the Espace would be too much of an expensive oddity, too much of a risk to develop; and so was not sent to production. In 1978, Pollock took the concept to Renault who saw its potential and eventually began production with a fiberglass body and increased rigidity of the frame.
The finalized vehicle rolled off the production line in 1984 but unfortunately saw a slow start, in the first month only 9 were sold. However, when customers recognized the Espace's benefits and family-friendly design, sales began to soar. This Espace gained recognition when it was featured on an episode of Top Gear, here, the team raced an Espace against a Toyota Previa, a Toyota MasterAce and a Mitsubishi Space Wagon (similar cars at the time). The V6 Espace won.
The second generation sold between the years 1991 – 1996 and featured a more rounded exterior which made it fit in aesthetically with the rest of Renault fleet. To celebrate Renault's participation in Formula 1, Renault created the Espace F1, this special edition had a rear spoiler and a V10 engine capable of doing 0 – 62 mph in 2.8 seconds and achieved top speeds of 194 mph.
The third generation had a 'futuristic interior' according to the manufacturer, took a new design direction that made it look similar to the new Clio and was 90% recyclable. The fifth generation debuted at the Paris Motor Show in 2015 and was designed as more of a crossover to fit in with their competitor's models. This latest Espace had radar adaptive cruise control, active emergency braking, lane depart assist, voice control and Bluetooth.