SEAT Córdoba Owner's Manual
---
You can find 9 different owner's manuals for the SEAT Córdoba on this page that are in the PDF format.
Yearly Córdoba Owner's Manuals
The years available stretch from 2002 through to 2010 and to view the manual you just click the name underneath.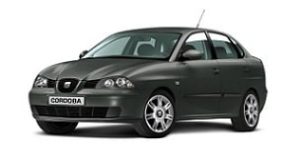 About The Córdoba
The SEAT Cordoba is a vehicle that spans many body styles. Sold as a saloon, estate and coupe, it is essentially a larger version of the ever-popular VW Golf-based Ibiza.
The very first model was displayed at the Frankfurt Auto Show in 1993 and was styled by SEAT's own Giorgetto Giugiaro, a designer responsible for several other lines sold by the automaker. #
First generation Cordoba's had several engine configurations, 1.4-liter petrol, 1.6-liter petrol and a 1.8-liter petrol, all of which were shared with various compact Volkswagen models and, of course, the Ibiza.
A few years after the initial release, SEAT created the SX, a 2-door coupe version with 5 different engines, 16-inch alloy wheels, ABS (seen as a modern advancement of the time) and air conditioning (again, a somewhat luxurious feature for the smaller car).
1999 saw an upgrade, with emphasis applied to the cars aesthetics, Seat changed the front and rear bumpers, head and tail lights and grille. Due to poor sales, the SX at this time was withdrawn from the UK market.
The SEAT Cordoba was the manufacturer's official rally car between the years 1998 and 2000. SEAT used as a specially engineered version designed specifically for the sport, this model had a 2-liter turbocharged petrol engine.
A second generation debuted at the Paris Motor Show in 2002 as a 4-door saloon with an enormous boot for the size of the vehicle (it had the capacity to accommodate 485 litres when the rear seats were folded flat). During this decade, sales changed significantly, between the years 1998 and 2009, SEAT saw its record year (108,749 units) drop to a disappointing 4,861. Critics were quick to point out that saloon versions of hatchbacks are rarely successful and the Cordoba had suffered the same curse. Despite its relative unpopularity, the Cordoba enjoyed good reviews for its practicality and driving ability with the only real complaint being that it warranted a 6th gear for motorway driving.