Volkswagen Golf Owner's Manual
---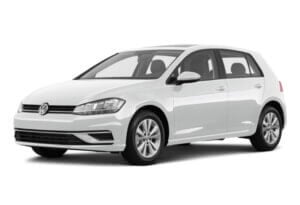 About The Golf
The compact car Volkswagen Golf has been a common sight on many roads in the Western world since it began production in 1974.
In the USA it is known as the Volkswagen Rabbit and in Mexico, it is sold as the Caribe.
Back in the mid-1970s when the car was unveiled it was meant to be the replacement for the world's best-selling car (at the time) the Volkswagen Beetle.
It then took over the success of the line and managed to claim the title of the best-selling car in Europe for many years since.
Customers have been able to adapt their Volkswagen Golf heavily at the time of purchase, opting for any one of a variety of layouts such as estate and convertible.
Many other models have spawned from this line focusing on a certain attribute such as the Scirroco, Eos, Bora and Jetta lines that are essentially sedan versions of this car.
Sales have been bolstered over the years by special editions such as the GTI which was introduced 2 years after the original.
The GTI version pretty much kicked off the hot-hatch revolution and brought sports car performance to the average working man, with lightweight frames and pokey engines.
A plug-in hybrid option (GTE) was added to the model during the seventh generation of its design giving the car the ability to be driven with electricity alone before starting a gasoline engine to increase range.
With a wide variety of trims, the Golf appeals to many different budgets and requirements – engines range in size with modern gearbox options to complement them.
On most of the recent versions of the car on sale today you will find it sold as one of these trims:
BlueMotion
GT
GT Edition
GTD
GTD BlueLine
GTE
GTE Advance
GTI
GTI Moda
GTI Performance
GTI TCR
Match
Match Edition
R
R-Line
R-Line Edition
S
SE
In 2014 Volkswagen created a mini-MPV offshoot of the Golf called the Sportsvan/SV that replaced the Golf Plus model that ran for a decade before.
You can refer to the owner's manuals on this page for both models as well as the trims above as many of the features are shared among them.
In 2022 the Golf saw a mid-cycle facelift that improved the front-end to include LED headlights as standard along with a large bottom grille.
2022 also saw the dashboard of the car declutter with many of the controls moved to the infotainment system including the heating and air conditioning.
The German automaker has hoped that this move will make the car easier to manage although some people may need the owner's manual which is featured on this page.