Toyota Avensis Owner's Manual
---
You can find 11 different owner's manuals for the Toyota Avensis on this page that are in the PDF format.
Yearly Avensis Owner's Manuals
The years available stretch from 2009 through to 2019 and to view the manual you just click the name underneath.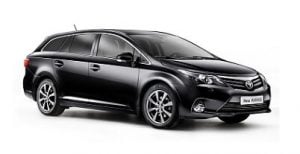 About The Avensis
Production of the Toyota Avensis began in 1997 at the production plant in Derbyshire, UK.
The production of the car would remain at that one facility for the rest of its life until it was discontinued in 2018.
It was a replacement for the European-centric model the Corona that had been marketed by the Japanese automaker there for 40 years.
Toyota introduced the car with a few gasoline and turbodiesel engine options that sat around the 1.6-liter to 2-liter displacement area.
Buyers were able to choose between a saloon/sedan, estate/station wagon of sporty liftback body style for the car.
In 2003 a second-generation model was put into production and became the most popular Toyota model on sale in Europe after the Camry was discontinued there.
It was now being built on top of the company's MC platform that underpinned many other models including the Corolla and the Celica.
Thanks to a wider range of engines and improved technology the car was a big hit, earning several titles from motoring publications such as "Best Family Car".
2009 brought in the third and final generation for the Toyota Avensis with the liftback body style being dropped from the order sheet.
The car saw several facelifts as the years went by that brought the look of the car into the present but in 2018 the final models rolled off the production line in Derbyshire.
Toyota replaced the model in Europe with the slightly larger Camry that had just been updated in 2017.