Toyota Camry Owner's Manual
---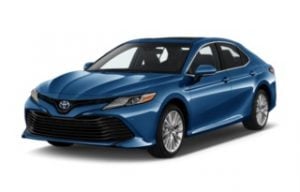 About The Camry
Launched in 1982, the Toyota Camry has been a popular sight on roads across the world growing in size from a compact car originally to a mid-sized one in 1991.
The original model was built on the same platform as the Supra and Carina but modern versions share a chassis with the Avalon and RAV4.
It sits just above the hugely successful Corolla compact car that filled the slot that this model once occupied in the company's range.
The model has gone through many changes throughout its life, 6 when it had a narrower body and 6 so far a wider body car.
There has always been a wide range of engines for the Camry as well as manual and automatic gearbox options.
In 2006 Toyota unveiled a hybrid drive-train for the Camry that went on sale for the 2007 model year. Each generation since has offered a hybrid version with the technology improving with every new release.
You can find owner's manuals for the hybrid version of the Camry on this page alongside the non-hybrid version.
With the most recent generation, the model gained the option for a 4 wheel drive platform if the customer desired it mated with a modern selection of gearboxes with plenty of gears for increased fuel efficiency.
When ordering this modern version of the car you can choose from one of 9 trims including:
CE
Deluxe
DX
L
LE
SE
TRD
XLE
XSE
The most recent generation (XV70) has a host of advanced technology built-in such as pedestrian detection and adaptive cruise control.
FAQ's
Q: Does the Toyota Camry come in manual?
A: The only drivetrain that the latest (as of 2021) Toyota Camry is offered with is a mild-hybrid that uses a CVT to transmit the power from the engine to the wheels. No manual or automatic transmission is on offer for the modern Camry.
---
Q: What does XLE mean on the Toyota Camry?
A: The XLE badge represents the Executive Luxury Edition trim that is applied to the car. This XLE level of trim is meant to appeal to those wanting an executive version of the Camry, whereas the XSE is the sports version.
---
Q: What is the average lifespan of a Toyota Camry?
A: It is claimed that a Toyota Camry can continue on for 200,000+ miles when properly maintained and serviced.
---
Q: Why is the Toyota Camry so expensive?
A: The Camry retains its value well and is a sought-after model on the automobile market. They are known for being reliable cars and are in high0de
---
Q: Are Toyota's actually reliable?
A: Toyota vehicles are known for their reliability and because of this, they have many models that sit at the top of the best-selling new cars in the USA list. These cars are known to retain their value as well, making them great cars to own as long as you properly service them.